This is the era of technology. There is no company in the world right now which does not have to develop software, manage databases or design their own websites. If you are reading this, you are probably wondering if a masters in software engineering is worth it. And I am here with the answer you were looking for.
Join our discord server for more such content 
Is a computer science degree worth it?
Computer science encompasses the study of computers and computational systems. Computer scientists may generally theorize and calculate aspects of software and software systems in the design and development phases. Although there are some similarities between computer science and software engineering; the concepts that underpin each subject of study might differ significantly.
S.E., web development, I.T., and network systems administration are some of the high-paying industries that a computer science degree offer.
Pros over cons?
Because of the scarcity of competent personnel, as well as the field's high return on investment; computer science is one of the most popular undergraduate majors. Other outweighing pros include:
Prepares You for a Wide Variety of Jobs
You'll Be Part of a Growing Industry
Computer Science Degrees Are in High Demand
Opens the Door to High-Paying Careers
Yes, there are some attractive pros to taking up a computer science degree. But we should keep in mind that it is a heavily theory-based course as it requires rigorous math courses and a propensity for both analysis and problem-solving.
For some, these degrees may be too expensive to afford; which is why alternative choices like coding boot camps and diplomas are becoming increasingly popular.
At the same time, if plenty of job opportunities and high pay aren't enough, the low barrier to entry is another reason to consider software development. Although it depends on the situation, you don't necessarily need a degree in computer science to get a job as a software developer.
Software Engineering vs Computer Science
| | |
| --- | --- |
| Software Engineering | Computer Science |
| Courses that focus on the computing, analysis, storage and application of data and data systems of computer programs and software. | Focuses on taking these principles and applying them to the product design, interplay, performance and other functional aspects of computer programs. |
| Offer candidates a broad range of job options in the informational technology industry. | Narrow a candidate's career path to specialized roles in corporations, companies and even mid-sized businesses developing and building applications and software programs. |
| When approaching software design, a computer scientist may typically work with theories and algorithms for how a program works. | They use a computer scientist's information and analyses to design the framework to build a specific program. |
| It focuses heavily on scientific theories behind computer operations, computing and data systems. | Use these theories to aid in the design and processes of building frameworks, hardware and software programs and applications. |
source: indeed career guide
Is software engineering a good career
As mentioned above, this is a time where specifically skilled personnel in fields like software engineering are lesser than the requirement. This sole reason makes S.E. a highly paid and respected career choice. Similarly, getting a master's degree in S.E. is being rewarded like never before.
Another reason a software engineering career is a great choice is because the field is so broad and encompasses a variety of roles related to both computer applications and systems. This enables you to work in the area or areas that interest you most.
For instance, some software engineers spend their days building or rebuilding computer information systems. Others use their talents to create web pages or enhance a company's network security. It's up to you which direction you want to take.
You can also work in almost any industry because they all use software to some extent.
But good things seldom come easy.
Is software engineering hard?
Knowledge about technology, coding and programming skills are the basic needs for an S.E. student. If you lack all of these, yes, software engineering could get really hard for you. But the good part is, that is exactly why there are 4-year undergraduate degrees offered for you.
A bachelor's degree in software engineering is meant to teach you the basics of coding, software design and architecture, software testing, and project management.
Although no specific subject of study is necessary to become a Software Engineer, most organizations do demand a college degree for a job in software engineering, and it helps if the degree is in a relevant discipline such as computer science, math, development, or engineering
What jobs can I get with a masters in software engineering?
The principles you gained as an undergraduate will be expanded upon in a master's degree. When working on a software project, you may expect to learn more about database design principles, software testing, systems design, and developing your creativity and problem-solving skills.
Here are some specializations that software engineering has to offer when you reach the post-graduate level. Selecting your specialization will majorly impact the jobs you will be offered in the future.
Software Development. This major focuses on the technicalities behind software development, allowing holders to work in various environments.
Cybersecurity. This major will give you an in-depth understanding of how applications and software are constructed.
Game Systems. You will learn how to design real-time games and interactive simulations, along with gaining an understanding of systems architecture, computer graphics, and game physics.
Software Architecture. This major will make you better equipped to handle large-scale software development projects, teaching you more about the design and architectural components.
Project Management. This major gives you the understanding needed to lead teams through the entire software development process – from the creation to implementation.
(source: girl tech)
How much does a software engineer with a masters make?
Just like any other career, software engineering has its different tiers, providing different opportunities and compensations to different people. Like most IT companies around the world, your compensation solely doesn't depend on your qualification; rather a combination of factors like:
growth
experience
resource to the company
skills
Initially, as a junior developer, you'll often build simple scripts and obtain a basic grasp of the software development lifecycle. Typically, you will stay in this position for three years.
Later, you design complicated apps as a senior developer and have a thorough grasp of the full application lifecycle. You may stay in this position for a long time, however, as you become older, competing with younger talent gets more difficult.
If you are a senior developer and you don't mind doing some management, you can become a lead developer. Lead developers co-ordinate the work of junior and senior developers.
Masters in software engineering- salary
Glassdoor reports that the average base pay for those in the software engineering career realm is double that amount at $103,035 annually. Even entry-level software engineers earn roughly $86,000 per year.
So, if you're looking for a career track that can quickly take you into the six-figure range, a software engineering career is one to consider. With the right education and experience, you can earn even higher, like around $145,000 per year.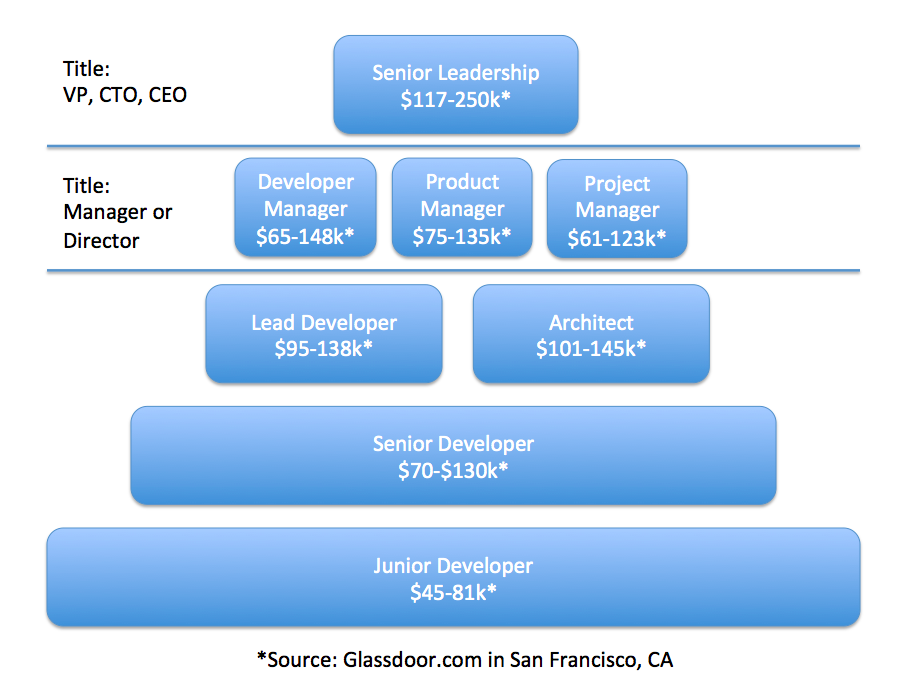 An entry-level Software Engineer with less than 1 year of experience can expect to earn an average total compensation (includes tips, bonus, and overtime pay) of ₹443,465 based on 2,352 salaries.
An early career Software Engineer with 1-4 years of experience earns an average total compensation of ₹539,221 based on 14,309 salaries.
A mid-career Software Engineer with 5-9 years of experience earns an average total compensation of ₹938,866 based on 3,824 salaries.
An experienced Software Engineer with 10-19 years of experience earns an average total compensation of ₹1,557,676 based on 797 salaries.
In their late career (20 years and higher), employees earn an average total compensation of ₹1,000,000.
A huge chunk of the question 'is masters in software engineering worth it' will be answered by evaluating the salary one would get as a software engineer.
NOTE: These numbers are solely based on a survey by payscale.com.
Why do a master's in software engineering?
A master's degree will provide you with in-depth information and design expertise that a bachelor's degree will not provide. This will allow you to take on more difficult jobs and move to advanced senior and executive roles more quickly. So, you will be able to grow quicker than a conventional bachelor's graduate since you will be involved in a range of tough projects that resemble real-world software initiatives.
Getting a master's degree, in general, can be an expensive affair, and software engineering is no different. Many types of research have shown that the expense incurred by a master's student of S.E. is more than the salary they earn during their first year as an employee.
The answer to the question "is masters in software engineering worth it" will depend on a lot of personal factors like your skillset and how much you can improve it; your career path and goals set; and most importantly, your financial situation.