A few days back, my friend and I went out for shawarma and realized the bill we got wasn't ours. It really fascinated me how they had tailor-made software that immediately showed what had happened. That got me wondering, "what software do restaurants use?" and more importantly, how are they so smart?
Join our discord server for more such content 
What is a restaurant management system?
It's not uncommon to find restaurant operators today, relying on one or two of the three most important data management systems created for the industry; point-of-sale, back-office and accounting.
It is a type of point-of-sale (POS) software specifically designed for restaurants, bars & food trucks in the foodservice industry. Unlike a POS system, the restaurant management system (RMS) encompasses all back-end needs, such as inventory and staff management.
But for that, let us find out what POS is.
"The point of sale (POS) or point of purchase (POP) is the time and place where a retail transaction completes". The merchant calculates the amount owed by the consumer at the point of sale, displays that amount; may produce an invoice for the client (which might be a cash register printout); and displays the customer's payment alternatives.
William Brobeck and Associates in 1974 built one of the first microprocessor-controlled cash register systems for McDonald's Restaurants. Each station in the restaurant had its own device which displayed the entire order for a customer —
For example, [2] Vanilla Shake, [1] Large Fries, [3] BigMac — using numeric keys and a button for every menu item. By pressing the [Grill] button, a second or third order could be worked on while the first transaction was in progress. When the customer was ready to pay, the [Total] button would calculate the bill, including sales tax for almost any jurisdiction in the United States.
Software for bars and restaurants
From quick service cafes to fine-dining restaurants, RMS POS provides all-in-one systems for venues of any size and complexity. A robust feature set includes back-office tools, terminals, customer management, promotions, and inventory management; giving restaurants more control with the ability to opt into only the functionality they need.
RMS PMS also integrates with hundreds of complementary, third-party technologies including accounting software, CRM software and payment processors; providing restaurants with better automation and real-time data. RMS POS tailors to each restaurant's unique needs to optimize operations and performance and support business goals.
Which software is best for restaurant?
Because this system will be responsible for many of your day-to-day processes, it's important to find one that works well for you and gives you exactly what your restaurant needs. What is best for you might not be your competitor's best. Here are some aspects you should consider while choosing your RMS POS:
Type
Determine what type of system you need. If you're going to be running your business on Android devices, do not get an iPad system. If you want a one-stop-shop, an end-to-end system will likely be the most cost-effective option.
Scaling
If you have plans to grow or franchise your restaurant, buy a system that can grow with it. Make sure your system can handle an increase in the number of terminals and handheld devices, provides advanced large-scale analytics, offers multibranch add-ons, and can handle a large number of employees (and their schedules).
Integration
No system is perfect, so you will most likely have to integrate your RMS with other software apps to achieve everything you need. You should make sure your RMS easily integrates with other systems, such as OpenTable or Yelp for reservations, so you don't waste time repetitively entering data into separate programs.
Ease of use
Running a restaurant is tough as it is. You don't want to waste time troubleshooting your RMS in the middle of a dinner rush. Spend a good deal of time testing the RMS out, ensuring that it is intuitive and problems are easy to fix.
Cost of restaurant management software
The range for restaurant POS systems cost typically falls between $79 – $150 per month for software. In addition to monthly software costs, the hardware costs are a one-time fixed cost that starts at $799.
Hardware: This includes routers, terminals, kiosks, handheld devices, card readers, kitchen display systems, printers, and guest-facing display.
Software: This includes the tech stack or platform with features like the ability to place orders, payment processing, and analytics and reporting.
Additional Features: This includes software integrations, gift card programs, online ordering and delivery, payroll/team management, and loyalty/rewards program hosting.
What you need to keep in mind is the fact that POS systems don't work alone on software. The hardware is the more expensive and complex part of the system; that needs not only huge investments but regular maintenance and security.
More expensive options can either be perceived as investments, or risks according to your current position.
Restaurant management software – India
Below is the list of the top 5 POS software for restaurants in India, that are actively used in 2022. To answer your question "What software do restaurants use?", here is a list; this is not a sponsored post, it is solely based on research and reviews.
SlickPOS is a cloud-based POS software for restaurants, cafes, bakeries, food trucks & cloud kitchens.
GoFrugal is one of the most popular players for retail POS. Their cloud-based restaurant POS is called ServQuick and caters to restaurants and fast-food outlets.
It is another POS player who has been operational in India for a long time. POSist works on the browser and also has a lite version for Android.
Petpooja is a POS that's focused on Indian restaurants. Just like the other players mentioned here, Petpooja offers a full suite of products for restaurant management.
Torqus provides POS, Inventory, and Supply Chain Management tools for the Indian restaurant industry. Times Internet's Dineout has recently acquired Torqus.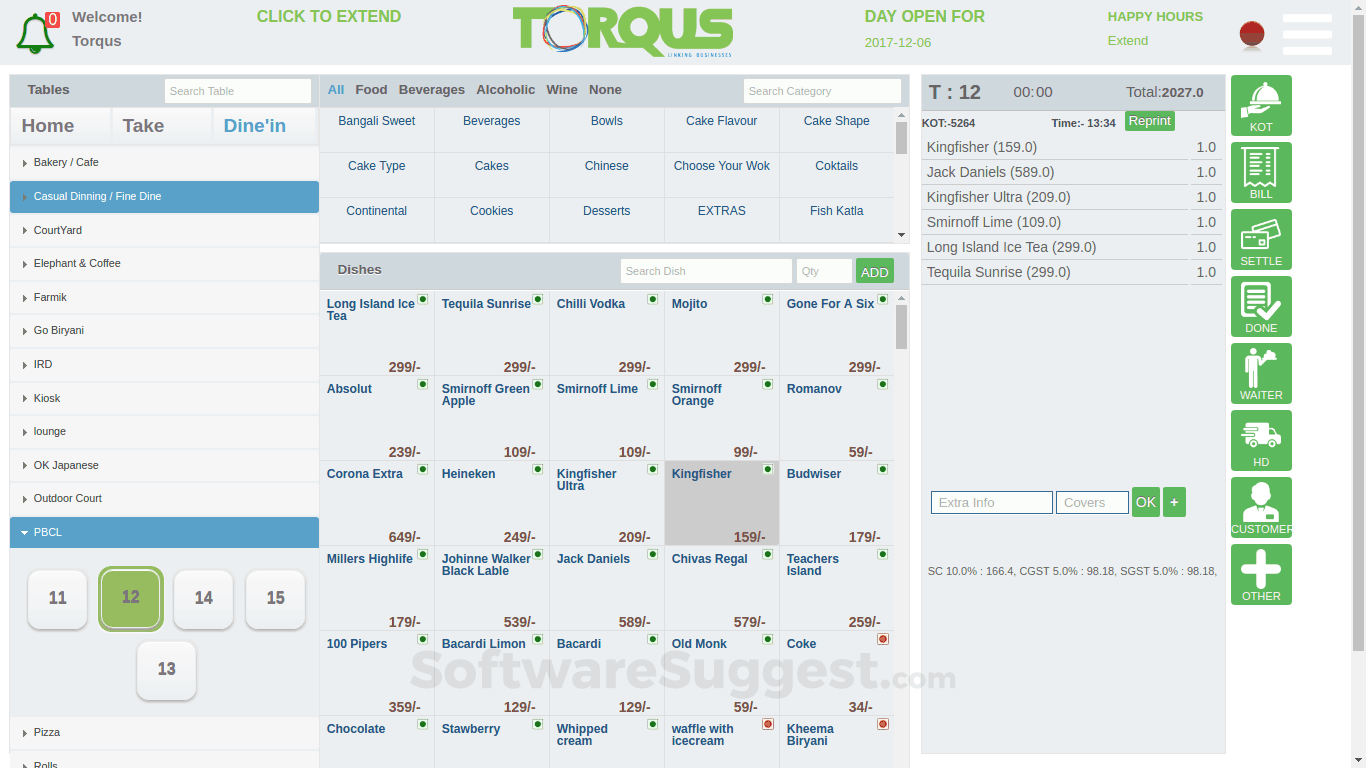 What is a restaurant information system?
By tapping into the power of a robust back-office system, an accounting system becomes the essential bookkeeping tool in your restaurants' information system arsenal. It manages payroll to the penny by merging time and attendance data from the POS and back-office systems.
Some may consider such data automation systems pricey and unnecessary. Yet in reality, by providing restaurant operators exceptionally tight control over crucial numbers, such systems pay for themselves in as little as a year or two through the accumulation of cost savings.
The 8 Best Accounting Software for Restaurants in 2022
Source: the balance small business
Best in:
What is restaurant automation?
A restaurant that employs software and application to assist restaurant owners and managers with the automation of administrative repetitive tasks, workforce management & scheduling, inventory tracking & control, number of orders, and payroll is known as an automated restaurant system.
It focuses primarily on the boring and time-consuming aspects of operating a restaurant so that managers and employees can invest their time and attention in their customers, the most significant component of any fast-food house.
What might sound like a huge expense might turn into a system that only brings advantages — saving time, money, and energy. Simply put, it:
Save time on taking orders
Streamline restaurant operations
Minimize labor costs
Reduce human error and increase order accuracy
Restaurant reservation planner
A restaurant reservation system lets customers reserve a table while restaurateurs oversee bookings, cancellations, and no-shows. Reservation software may also offer waitlist tools, visual table management features or allow you to handle digital pre-payments.
Most restaurant reservation software solutions are subscription-based plans where you pay a flat fee per month. But, some providers charge extra fees for POS integrations or reservations booked through your website or third-party providers.
In a competitive field like restaurants, where everyone is trying to have an edge that the others don't; being up to date with the technology and the innovations is more of a need than a want.